What is a Director Identification Number (
director ID
)
 and do I need one?
You may have heard about the new rules which require directors of Australian companies to obtain a Director Identification Number (director ID). 
An application for a director ID must be made individually and only by those who are applying for the director ID. As you are required to prove your identity as part of the process, our firm, or any other third party, is not able to apply for a director ID on your behalf.   
For information on how to apply for your director ID, check out this video series: Director ID Videos
What is a Director Identification Number (director ID)?
A director ID is a unique identifier that directors need to apply for, like a tax file number. If you are a director of multiple companies, you are only required to have one director ID that will be used across all companies. You will keep your director ID forever even if you change companies, resign altogether from your director role(s), change your name, or move overseas. 
Why do I need a Director Identification Number?
As part of the Government's Digital Business Plan, it is rolling out a Modernising Business Registers program which includes the introduction of director IDs. The program is designed to do the following:
Create a fairer business environment by helping prevent the use of false and fraudulent director identities 

Better identify and eliminate director involvement in unlawful activity

Improve the efficiency of the system by making it easier to meet registration obligations and trace director activity and relationships
I've got a director ID – so what do I do with it?

Find out how to manage your director ID:

Using your director ID
View or update your details
Protect your identity
Your legal obligations
How does it work?
A director ID is a 15-digit identifier given to a director (or someone who intends to become a director) who has verified their identity
A director ID:

Starts with 036, which is the 3-digit country code for Australia under International Standard ISO 3166
Ends with an 11-digit number and one 'check' digit for error detection
How do I apply for a Director Identification Number?
There are 3 key steps to apply for your director ID. 
Step 1: Set up myGovID – If you do not already have a myGovID you will need to set this up before you can apply for your director ID online. You can find information on how to setup your myGovID by downloading the app at:  https://www.mygovid.gov.au/set-up   
Step 2: Gather your documents – You will need to gather some information that the ATO already knows about you to verify your identity. You will need your tax file number, your residential address held by the ATO, and information from two of the following documents: 
Bank account details

 

ATO notice of assessment

 

Super account details 

 

Dividend statement

 

Centrelink payment summary

 

PAYG payment summary  

 
Most of this information can be downloaded from your myGov account so it may be worthwhile linking to this service ahead of applying for your director ID. Note: myGovID is different to your myGov account. Your myGov account allows you to link to and access online services provided by the ATO, Centrelink, Medicare and more, while myGovID is an app that enables you to prove who you are and to log in to a range of government online services, including myGov.   
Step 3: Complete your application – Once you have a myGovID and information to verify your identity, you are ready to apply for your director ID. You can click on the following link to start the application process. The application process is quick and should take you less than 5 minutes.   
https://abrs.gov.au/persons/ui/secure/start/applyForDirectorID?action=applyfordirectorid  
Further information about the application process, and step-by-step instructions, can be found via this link: https://www.abrs.gov.au/director-identification-number/apply-director-identification-number 
By when do I need to have a Director Identification Number?
The director ID deadline depends on when you were first appointed as a director of any Australian company.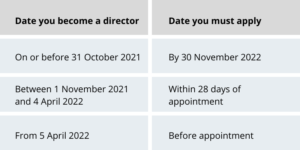 If you are a CATSI director, a longer transitional period will apply to you. 
How will ASIC be notified?
Accountants or their client Directors are not required to complete any additional steps to associate their director ID to their associated companies. 

This will be automatically completed and handled by ASIC. The director ID will be tied to the individual and any companies the individual is a

Director

of will have an association of the individual record that holds the director ID. 

 

Where there are any discrepancies in the company records associated to an individual (

eg.

a difference in names, addresses, etc) ASIC will rea

c

h out to the relevant director and/or their Agent and request they update their records.
How can we help?
We have created a series of videos to guide you through the director ID process and to answer common questions on this topic. If you still have questions, please contact us. Although we are unable to apply for a director ID on your behalf, we want to help make this as simple a process as possible.