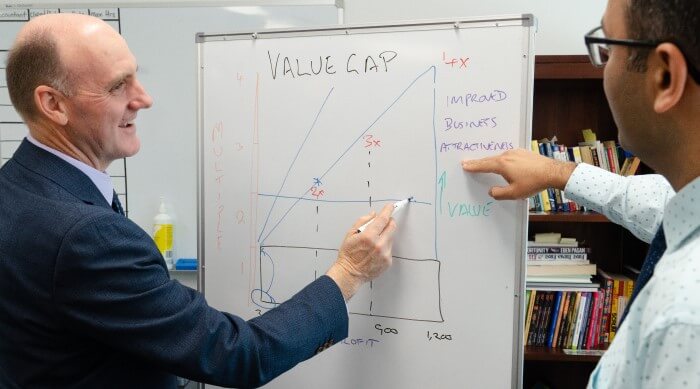 Are you ready to take your business to the next level?
Only 39 percent of businesses make a profit. Make sure yours does.
Our clients engage our Business Development services when they're ready to move their business forward in terms of growth, profitability, long-term planning, and target setting.
Perhaps you're keen to expand your horizons with a new focus, product, or service? Or, you might be a young business struggling to sustain the same level of growth you enjoyed after your initial success?
Whatever your situation, Pretium Solutions provide the services, systems, and expertise to create a strong, sustainable, and profitable plan for the future.
How We Can Improve Your Business
You might be the business owner, but with so much of your time, mental and emotional effort going into your business – believe it or not – you aren't always the best person to give an unbiased review of your business' performance.
Before anything else, a comprehensive review of your business' performance needs to be undertaken. This could include your business structure, team management, cash flow, marketing and financial strategies, and how you stack up against your competition.
Once we've assessed where your business is at now, we can work on taking it to where it needs to be to accomplish your goals.
Cash flow management
Not every business is equipped with sufficient knowledge, tools, and resources to truly understand the flow of cash within their business and how to manage it more effectively. We're able to provide a complete analysis of your cash flow and determine stable, simple-to-manage strategies to improve your cash flow and help safeguard your created wealth. Download our Cash Flow eBook for more information.
Team development
Your people are your business' greatest asset. But are they being allowed to reach their full potential? By working with you on a plan that ensures all your employees are trained appropriately and are comfortable in their roles, we can massively boost productivity and performance.
Resource identification & strategic partnerships
Developing a strategic plan often exposes areas that the business needs to work on. Small businesses may simply not have the time, staff, or resources available to improve on parts of the business that aren't up to scratch – despite how much value they could potentially add to the company.
As part of a Business Development Plan, we help identify the kinds of skills or resources your business could utilise to improve in a variety of areas. From expanding your marketing presence to streamlining your IT systems, a detailed business plan could reveal enormous benefits through investing in these areas.
From a pool of networked resources, we can connect you to experienced professionals with the exact skills needed to fill in that important piece of your overall Business Development Strategy.
Don't just plan to have a successful business –
You need to implement.
Only 10% of plans get implemented. We'll partner with you to improve your business strategy and make your plans a success. Contact us today.
No matter how big or small your plans are, they all begin with a single step. 
Client Advisory Board Service
All successful athletes have one thing in common: a SPORTS COACH…
Someone who understands the business strategy, discipline and techniques that breed success.
For businesses, having an advisory board to discuss direction, goals and performance, is an essential part of running a successful business. A group of interconnected disciplines form a collaborative Board of Advisors with a common goal to help YOU, the business owner, build a valuable business.
Key outcomes of using our Client Advisory Board:
Clear direction and less stress
Improved profitability & business value
Accountability and good decision-making
Exit planning readiness
Best practice framework
To learn more about this exciting service, download our Client Advisory Board guide.